Product Description
Online Masterclass with Neil – February 26th 2022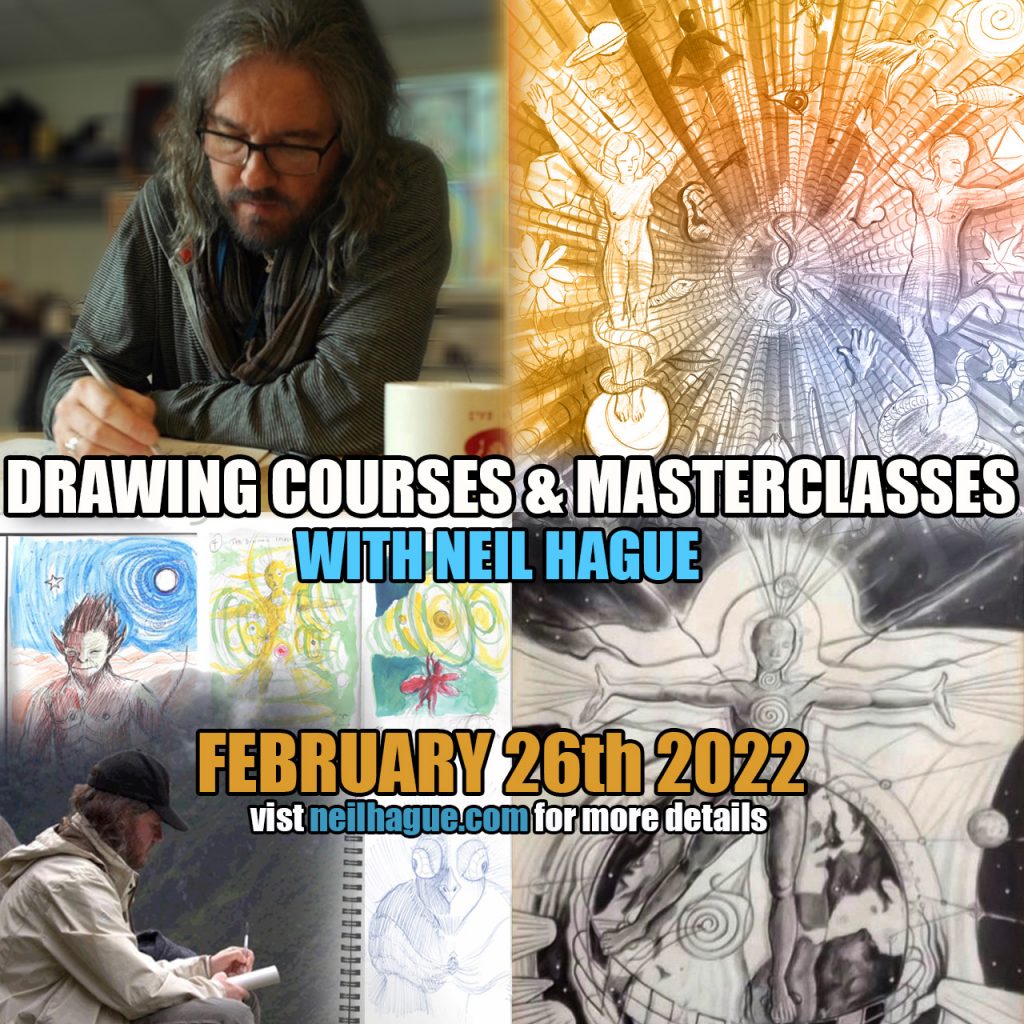 Price – £295
Join Neil over the winter of 2022 and glean an insight into his thirty year practice as an artist and illustrator

Neil has a wealth of experience in the arts, education and esoteric traditions and the classes on offer have been designed by Neil to give the beginner all the tools they need to start creating personal imagery, and to bring out the 'visionary' in more dedicated creatives.
The masterclass includes, but is not limited to:
Freeing the right brain through doodling/conceptualising/problem solving techniques

Painting to music and meditation (Journeying)
The alternative History of Art (The Art of the Visionary)

Insights into Neil's metaphysical concepts and books
Guided visual exercises bringing consciousness into 'form' through drawing and painting
Set projects, power points and PDF guide for your own personal use.

Images derive from the fountainhead of human life, the heart, the solar centre, ancient memories in the blood and the polarity of the fire of the spirit."
Cecil Collins
---
Terms & Conditions
1) Tuition on the basis of the terms & conditions will take place upon the execution of a receipt by neilhaguebooks.com with a correctly completed masterclass form and 'payment' has been made in full. neilhaguebooks.com' reserves the right, in total discretion and with no need to provide explanations, to decline to accept a booking. In such situation no agreement arises any payments received by neilhaguebooks.com will be returned.  The agreement is between neilhaguebooks.com and the atendee and is the sole agreement between those parties. No variation of these terms & conditions shall be applicable unless agreed in writing by neilhaguebooks.com. The agreement is governed by English law.
2) If classes are cancelled 'by the client/attendee', before the class/worshop begins, neilhaguebooks.com will retain 50% of the tution/class fee to cover costs and loss of booked sessions. Should Neil Hague have to cancel a class, the attendee/client will initially be offered an alternative class that can accomodate both parties. Should there be a need for neil to cancel a masterclass for other reasons a full refund will be offered.
3) All bookings need to be made at least 10 days 'in advance' of the class, so to allow for planning.
4) Our user's privacy is of the highest importance. We will never share your details with third-parties and all of our data is kept secure and deleted in line with GDPR compliance.
5) A masterclass booking form will be emailed once a payment has been made.
6) A pdf guide/document will also be forwarded to atendees 1 week before the class begins.