---
Lectures & Interviews in 2019

---
Neil Hague is a celebrated author and illustrator who is perhaps best known for his numerous covers and illustrations of David Icke's books including 'The Truth Shall Set You Free' and 'Human Race Get off your Knees The Lion Sleeps no More'. In this candid interview, Pierre Sabak talks to the researcher Neil Hague about his life and works including his new book 'Orion's Door'. A lecturer and author on visionary art and symbolism, he is also noted for his seminal texts 'Through Ancient Eyes' and 'Journeys in the Dreamtime'. A prolific artist and writer, Neil Hague wrote and illustrated the series of graphic novels 'Lions and Velons' – stories which include 'Kokoro', 'Aeon Rising' and 'Moon Slayer'. Spellbinding, the artwork and narrative depicts visually the hidden history behind the Earth and recreates graphically the war in heaven between humanity and an alien race. An expert on occult symbolism, Neil also discusses the secret traditions of Gnosticism and the Ophite mysteries in context to the Cathars and his interest in Shamanic Art. In the words of the visionary artist Neil Hague: 'The world we think we know so well is merely one of many mental stage shows, films, images and realities – every one are projections of an infinite consciousness, a world that exists between flesh and bones'. Definitive, this interview is a must for anyone who is interested in the emanation of the soul and how it relates to infinite realities – a Gateway that encompasses a human and non-human world of spirits, guardians, angels and alien beings.
---
---
For anyone wanting to organise a WORKSHOP (see below)
---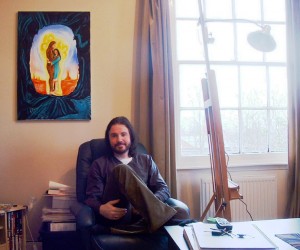 "Images derive from the fountainhead of human life, the heart, the solar centre, ancient memories in the blood and the polarity of the fire of the spirit."
Cecil Collins
Both bespoke private tuition and workshops consist of art-based exercises guided by visionary artist and author Neil Hague.
Weekend Workshops see participators enter into the 'power of the circle' through art and storytelling, with a view to unlocking individual connections worlds beyond the five senses. The aim of the workshop is to offer a platform for individual creativity; to allow for expression of self-knowledge and true understanding of our multi-dimensional self. Neil uses art in a myriad of forms to gain access to the 'creative imagination' and awaken the shamanic process within those that attend. Individuals who join him are given the opportunity to nurture knowledge and understanding of their creative abilities and their inner sight so to 'tap into' their multi-dimensional self.
---
If you would like to organise a talk or workshop for Neil please email the website here

---
See below for Workshop information – For Private Tuition click here

---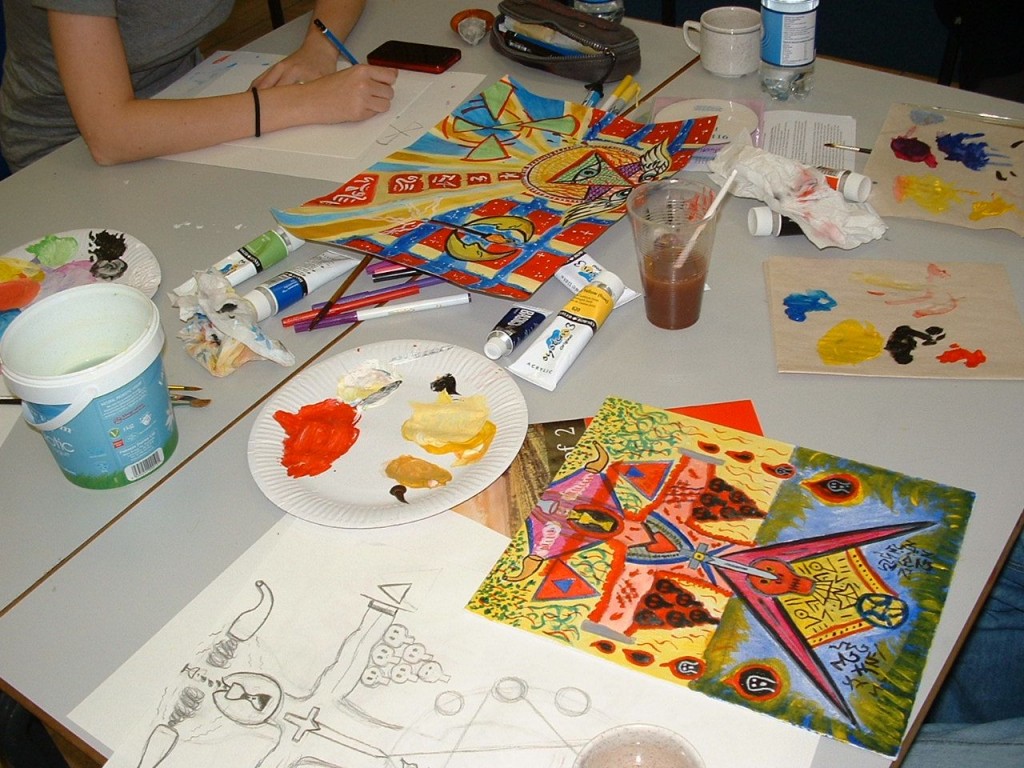 As part of the workshops Neil will give small presentations on the 'nature of reality' and how art is the first (universal) language. Through many years of making images, travelling to sacred sites and looking into oral traditions, he will talk about the dreamtime, symbols, archetypes, historical artists, human divine form and how the power of the visionary within us all can open our hearts. The workshops are designed to take those that participate on an individual journey into understanding who we really are and what we are capable of.
Both workshops (and private tuition) explore drawing from 'source' or 'painting from within' and can give people a chance to interact as a group or individually, to find personal pathways that stimulate the finer senses towards seeing in a 'sacred' way.
The workshops look at the use of storytelling, music, meditation, shamanic drumming and our creative intuition to discover the invisible worlds of our imagination. Through our personal art we can learn more about the visionary, multi-dimensional personas and the invisible energies that construct our reality.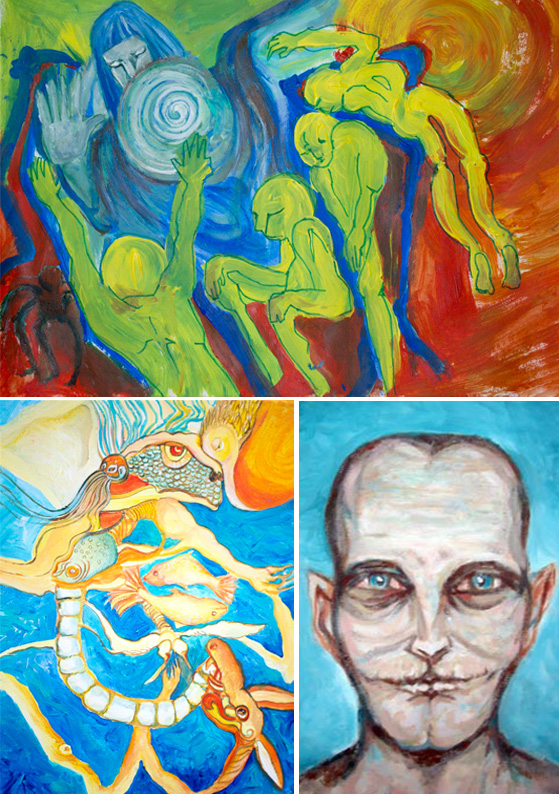 Day One (example)

Since Ancient times, the movement of the stars, planets and other celestial bodies have fascinated humanity. Our ancestors have built temples, belief systems and even personified these bodies so to gain a greater understanding of the mysterious connections between Heaven and Earth. Often guided by unseen forces our ancestors were pioneers, wanderers, storytellers and stargazers who undertook many quests into these unseen worlds. In doing so our native civilisations, through their stories and myths, claim to have been in contact with strange beings, from other planets, stars or different 'realities'. The mythology and associated imagery of our ancestors is teaming with strange gods, super-heroes and fantastic worlds, where 'good' fights a continuous battle against 'evil'.
The workshops set out to explore the connections between the stars and ancient myths that speak of human divinity, parallel worlds and the ability of art to weave reality.
Through the art and myths of the ancient 'shaman-artists' to the great scientific minds of the Renaissance, my work attempts to uncover the nature of reality. More so it is a guide to those that are ready to use their imagination and creativity towards shaping a new vision on Earth. As always it has been the visionary in all eras and through all mediums that continually sought communication with the unseen eternal aspects of all life.
What to expect on the workshops …
Alternative History of Art (The Art of the Visionary)

Collaborative Drawing

Freeing the right brain through doodling

Painting to Music, Meditation and shamanic drumming and chanting


Journeying

Guided visual exercises Bringing consciousness into 'form' through drawing and painting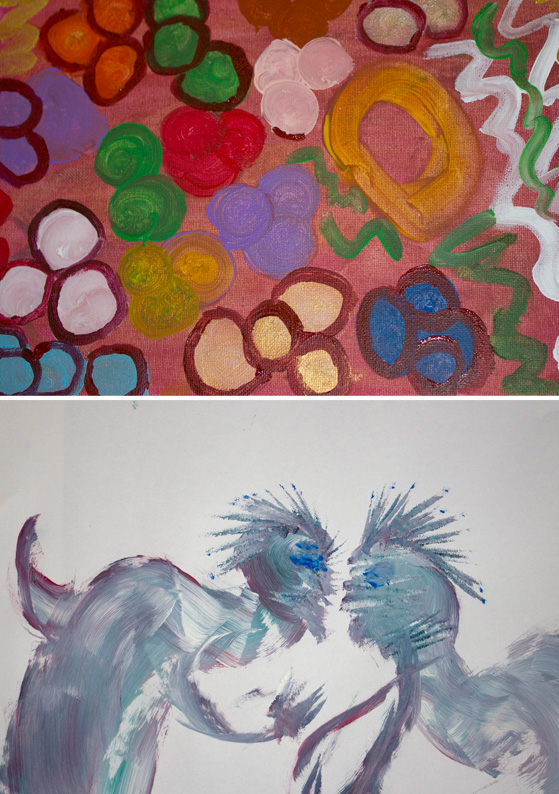 Day Two (example)

"We are all artists, saints, poets, angels and stars rolled into one. When we open our hearts and minds we start to remember. Through dreams, imagination and higher states of awareness, we recognise our true self."
Neil Hague
Seeing hidden dimensions through making art

Drumming & Guided Meditations


Individual work and painting on canvas; Neil will facilitate individuals with their painting techniques.

Group discussions

Storytelling
All of the imagery on this page was made from guided exercises, meditation and creative visualisation techniques, with a quite a few laughs and stimulating debates in between.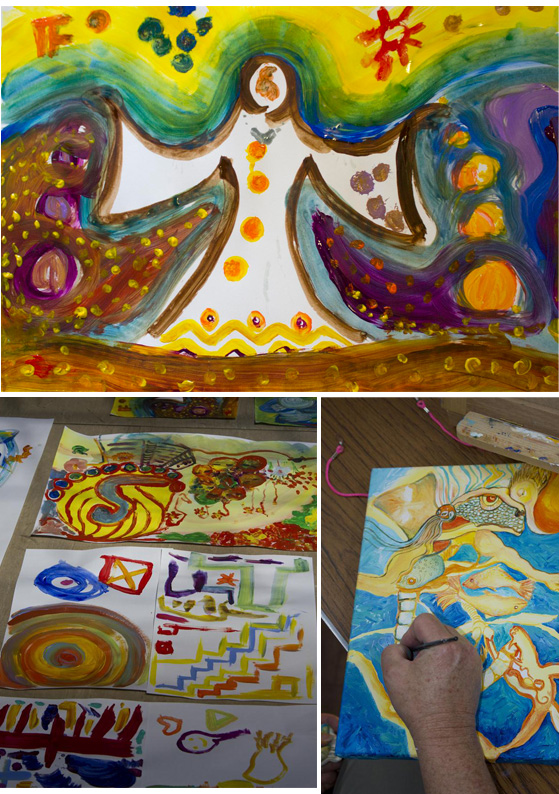 Reviews of previous workshops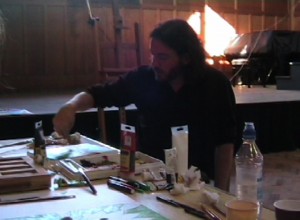 "Fantastic Stuff! Thanks for such a great new perspective on art, and for helping to trigger a new sense of inspiration. The workshop was very relaxing; a great angle on art-history, some enlightening imagery, and interesting to discover how the subconscious has a symbolic language of its own. I've now bought some paints and I'm going to 'get to it' and continue exploring!"
Ben (UK)
"I felt very comfortable working with you and your warmth and encouragement was very refreshing in our world of dogma and gurus and I'm so glad that you diverted the subject away from just the conspiracies." Alan (UK)
"Thank you so much for the workshop, it has opened my eyes on so many different levels! I feel like I have re-discovered my ability to put down how I feel on paper and have more faith in putting down my visions. I have also had a few personal realisations, which I have tried to bury under the carpet. I never thought that this workshop would open up so many cans of worms! I have definitely been inspired and am so grateful for your support." Sarah (UK)
"As a practioner and artist I found that I was learning new ways of looking at the recorded image. In context to my own work it was particularly useful for me as a figurative painter. The course allowed me to relearn to use my imagination and create works of art that are more personal and Visionary. To summarize I got a lot out of the workshop and looking at your range of students everyone from the novice to professional learnt how to access their inner mind. Speaking for myself the workshop was a unique experience. I should perhaps add that I was impressed with how well students grasped the basic principle of drawing in such a short time. If you take time to compare work started on the first day with the finished paintings the results are quite astounding. Anyone thinking of doing this course should really go out and do it. Not only will you learn to unlock your imagination (professionals) included, but you will meet a wide variety of open minded people to share this wonderful learning experience. Thanks again Neil for taking the time to design and plan the course." Simon (Japan)